Open to see all of
Warmoth's finish options
Details
The Short Scale J-Style bass body is a perfect union of familiarity and increased comfort. It is slightly smaller and lighter than a long scale body, but still substantial in feel and intuitive to play. Our range of wood and routing options allows you to create the exact look and sound you desire, from vintage to modern "boutique". Unlike many short scale basses on the market, this body is a pro-level instrument in all respects, built with the craftsmanship and attention to detail Warmoth is famous for.
Neck Fit and Scale Length
This body fits all Warmoth short scale bass necks. It can be either 30" or 32" scale, depending on which neck you choose.
Short Scale J-Style Bass Body Features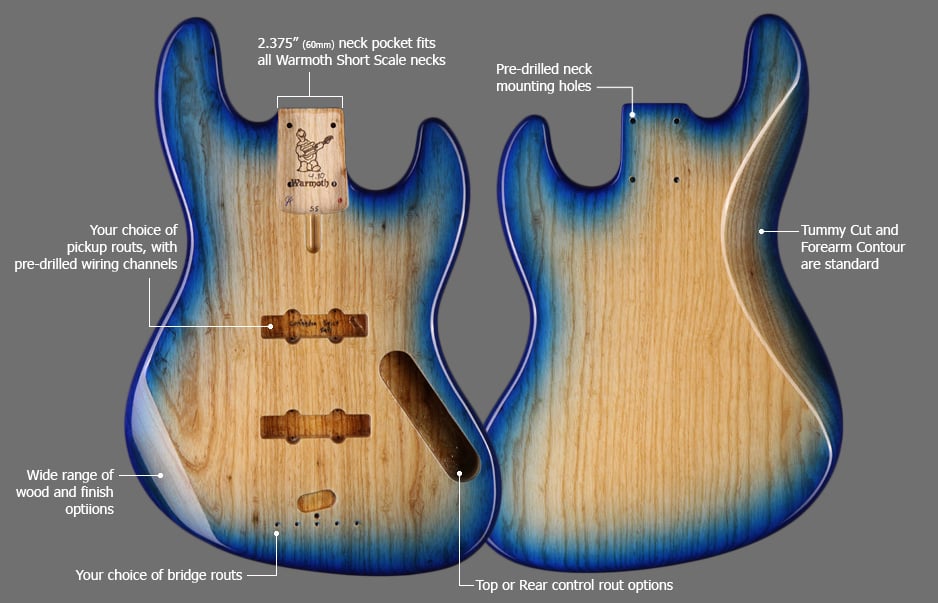 2.375" (60mm) neck pocket fits all Warmoth Short Scale necks
Fits standard-size pickups and hardware
Neck mounting holes and wiring channels pre-drilled for easy assembly
Front or rear-routed control cavity options
Many pickup routs available
Several bridge rout options
Wood, Laminate Top, and finish options
Solid or chambered body options
Forearm Contour and Tummy Cut are standard
3/8" edge radius
1-3/4" thick
30" or 32" scale, depending on which neck you choose
This body fits Warmoth 30" and 32" Short Scale bass necks only. It is not designed to fit any other neck.
This body fits Warmoth Short Scale J-style pickguard only.
Additional Information
This body works with Warmoth's Short Scale Bass necks only. It is compatible with both 30" and 32" scale lengths.
4lbs 08oz
SKU: B-5200
Included: