Open to see all of
Warmoth's finish options
Details
The Warmoth Dinky J body takes the offset-waist J Bass® design and reduces the overall size to something more sleek and modern. It's lighter and more comfortable, but immediately familiar in feel and tone. It's available with our full range of pickup and bridge rout, wood, lam top, and finish options.
Dinky J Bass® Replacement Body Features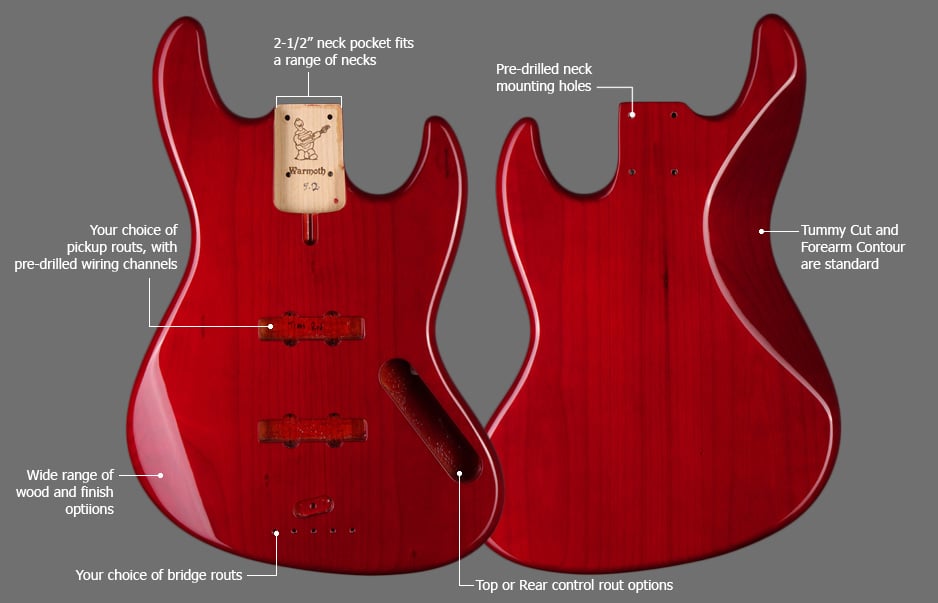 Slightly smaller perimeter than a standard J Bass®
2-1/2" (64mm) neck pocket fits any neck with a vintage/original USA Fender® heel
Neck mounting holes and wiring channels pre-drilled for easy assembly
Front or rear-routed control cavity options
Many pickup routs available
Several bridge rout options
Wood, Laminate Top, and finish options
Solid or chambered body options
Forearm Contour and Tummy Cut are standard
1-3/4" thick
3/8" edge radius
34" scale length
This body fits the Warmoth Dinky J pickguard only.
Additional Information
Dinky J Replacement Bass Body
4lbs 13oz
SKU: B-4816
Included: