Open to see all of
Warmoth's finish options
Details
The Z Bass Body is Warmoth's version of the extremely rare and super cool Zeta Prism bass. The Prism was released in 1989, with a Piezo pickup and MIDI controller. Production only lasted a few years. Warmoth's Z Bass recasts the unique shape as a traditional bass body, with standard pickup routs. Throw in our wide range of wood, bridge rout, and finish options, and you can create an unique axe that you'll never see anyone else playing.
Z Bass Body Features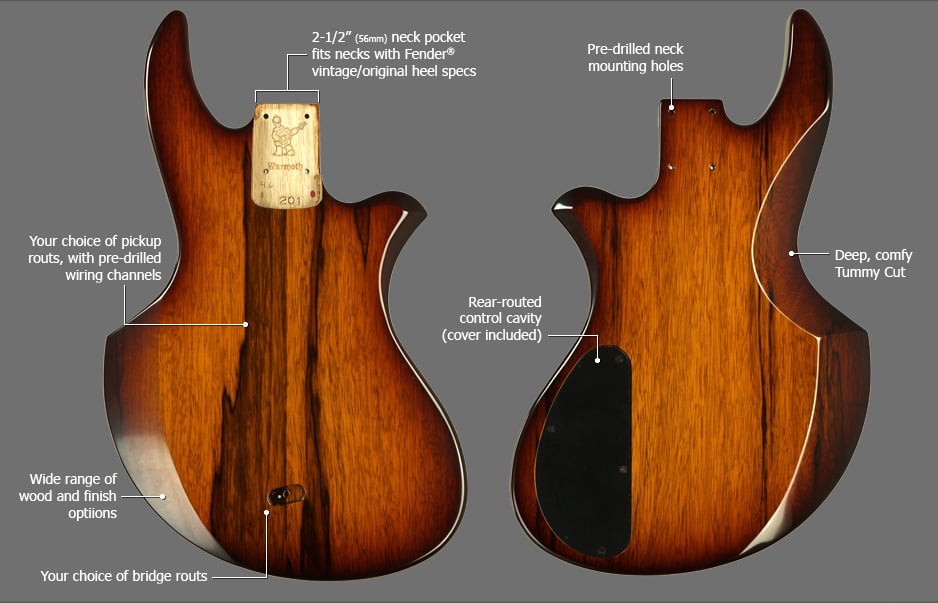 2-1/2" (64mm) neck pocket fits any neck with a vintage/original USA Fender® heel
Neck mounting holes and wiring channels pre-drilled for easy assembly
Rear-routed control cavity (cover included)
Many pickup routs available
Several bridge rout options
Full range of wood and finish options
Forearm Contour and Tummy Cut are standard
1-3/4" thick
34" scale
If you choose a Lam Top on this body the core wood will be revealed along the beveled edges.
Additional Information
Z Bass Body
4lbs ozoz
SKU: B-5002
Included: