Open to see all of
Warmoth's finish options
Details
When the J Bass® neck was introduced in 1960 it featured a thinner nut width and slimmer profile than its predecessor the P Bass®. Since that time its quick, easy playability has made it the world's most popular bass neck. Now Warmoth's vast range of options lets you create a J Bass® replacement neck uniquely your own. Select tonewoods, frets, finish, and more for a boutique-quality neck that looks, plays, and sounds exactly the way you want.
J Bass® Replacement Neck Features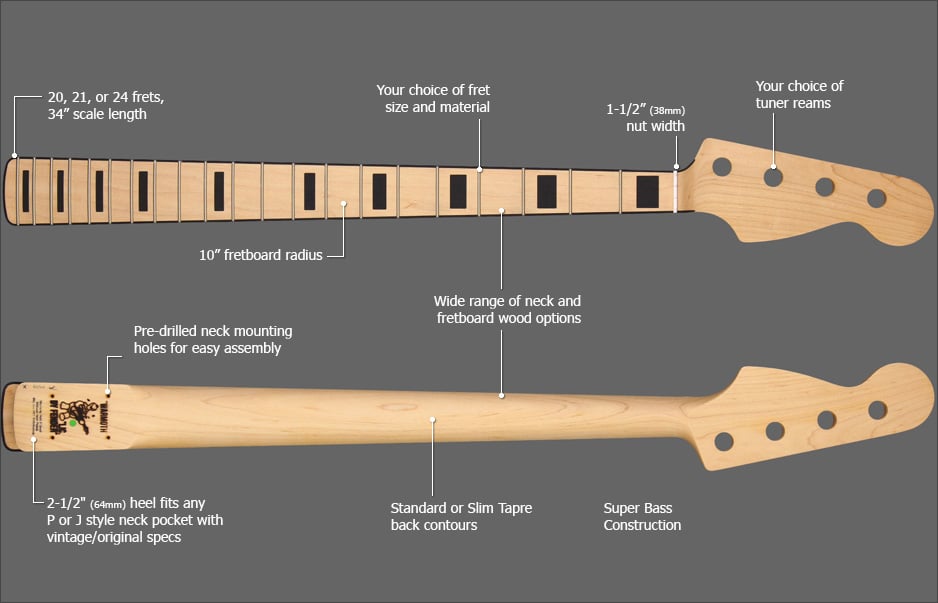 2-1/2" (64mm) heel fits any P or J style neck pocket with vintage/original specs
Narrow 1-1/2" (38mm) nut width for quick, easy fretting
Standard or Slim Taper back profilies
Stainless steel or graphite stiffening rods
Your choice of fret size and material, or fretless
Your choice of tuner routs
Double-expanding truss rod and steel stiffening bars for great stability
Pre-drilled mounting holes make installation easy
Additional Information
Replacement neck for J Bass®, officially trademark licensed by Fender®.
SKU: BN-10921
Included: