Open to see all of
Warmoth's finish options
Details
Our short scale bass necks offer easy playability, and robust tone. They are available in both 30" and 32" scale lengths, and work with any of Warmoth's short scale bass bodies. Their lower string tension and shorter reach make fretting more comfortable for hands, wrists, shoulders, and backs. They features pro-level construction, and a complete range of custom options, including neck and fretboard woods, fret materials, inlays, nut materials, and more.
Short Scale Warhead Bass Neck Features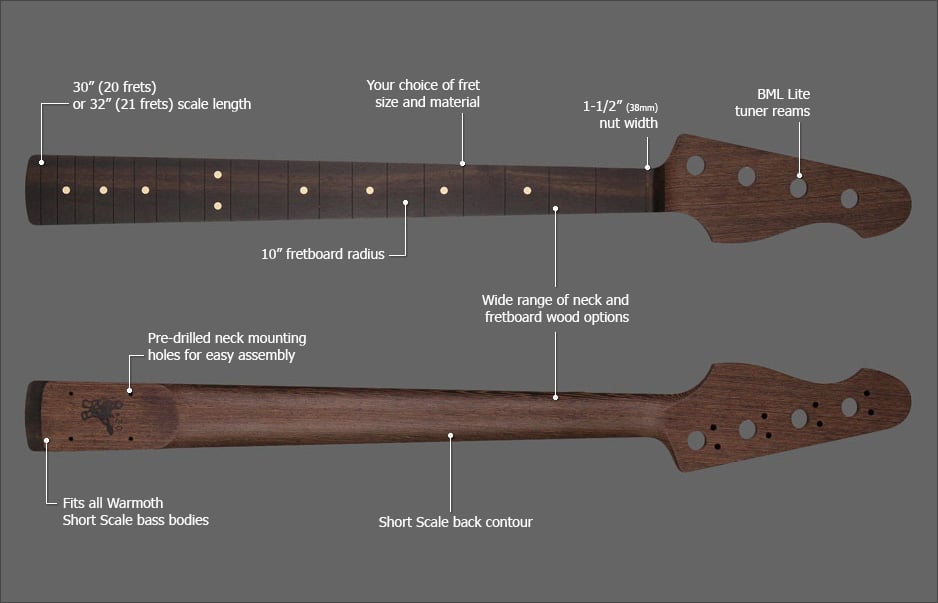 30" or 32" scale length (20 or 21 frets, respectively)
10" fretboard radius
1-1/2" (38mm) nut width, for a familiar J-style feel
Comfortable Short Scale neck back profile
Your choice of fret size and material, or fretless
Schaller BML Lite (17mm) tuner reams
Pre-drilled mounting holes make installation easy
This neck fits Warmoth Short Scale bodies only. It us not designed as a retrofit part for any other manufacturer.
Additional Information
This neck fits Warmoth Short Scale Bass bodies only.
SKU: BN-10769
Included: