Open to see all of
Warmoth's finish options
Details
The Deluxe 5 J Bass® body is slightly downsized from its four-string counterpart, and fits necks with a 74mm heel. It features a deep, comfortable Tummy Cut and Forearm Contour, can the control cavity can be Top or Rear-routed. Choose from Warmoth's huge range of pickup and bridge routs, body woods, and exotic Lam Tops, and build the bass of your dreams today!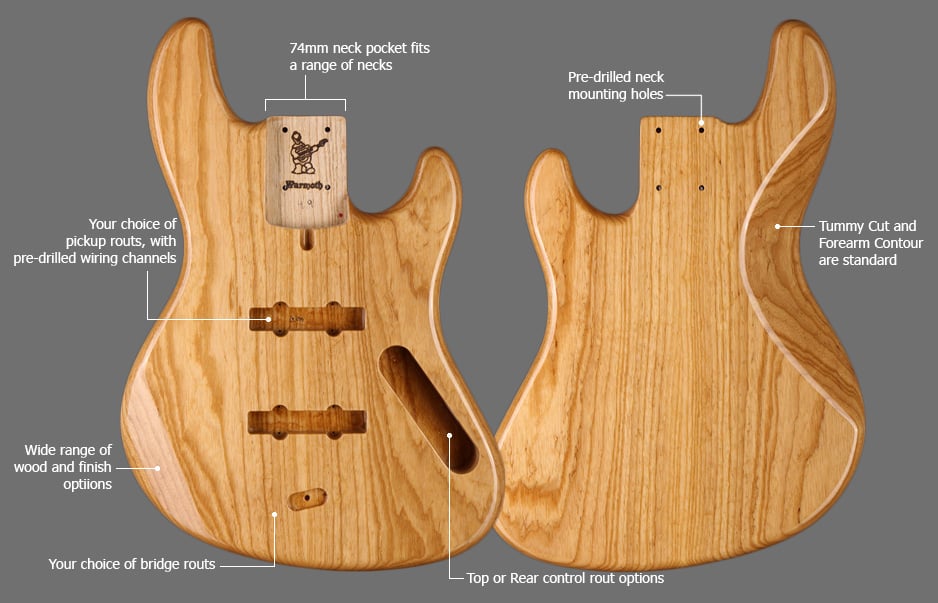 Deluxe 5 J Bass® Body Features
Forearm Contour and Tummy Cut are standard
Solid or chambered body options
Neck pocket width is 74mm and accepts the corresponding width neck with 22 frets
Top or Rear-routed control cavity
Neck mounting holes and wiring channels pre-drilled for easy assembly
Many pickup routs available
Several bridge rout options
Wood, Laminate Top, and finish options
1-3/4" thick
3/8" edge radius
34" scale length
This body is compatible with the Warmoth Deluxe 5 J Bass® pickguard only.
A bridge with a string spacing of 17.5mm is recommended with this body. Wider spacings can be used, but may position the outside strings too near the edges of the fretboard for some players.
Additional Information
Deluxe 5 J Bass® Replacement Body
5lbs 09oz
SKU: DP-334
Included: