Open to see all of
Warmoth's finish options
Details
The Standard 5 MIM J Bass® neck is a pro-quality neck with a full range of custom options, built to the specs of Fender's® made-in-Mexico 5-string J Bass®. Choose from a wide array of neck and fretboard wood, inlay, and finish options, for a bass neck that is truly your own.
Standard 5 MIM J Bass® Neck Features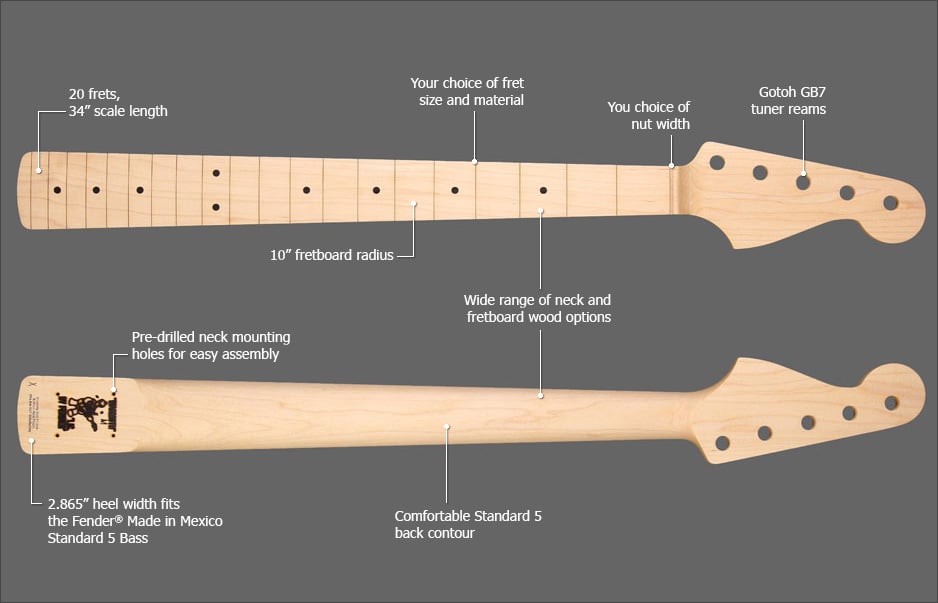 2.865" (73mm) heel width fits the Fender® Made in Mexico Standard 5 bass
10" fretboard radius
Two different nut widths
Comfortable Standard 5 neck back profile
Stainless steel or graphite stiffening rods
Your choice of fret size and material, or fretless
Gotoh GB7 tuner routs
Double-expanding truss rod
Pre-drilled mounting holes make installation easy
This neck is a replacement for Fender's® Mexican-made Standard 5 bass neck. It will not fit Fender® American-made Deluxe 5 bodies.
Additional Information
This neck is a replacement for Fender's® 5-string made-in-Mexico J Bass® neck.
SKU: D5N-1603
Included: