Open to see all of
Warmoth's finish options
Details
Warmoth's Gecko line is designed for bassists who prefer modern aesthetics and playability. There are four bodies in the line, each with a corresponding neck. The bodies sport an array of boutique features, including an extended upper horn for perfect balance, a heel-less neck joint, a perfectly designed control cavity, and a huge range of exotic wood options.
Narrow Width 5-String Neck Pocket
The Gecko 5 Small Body fits the Gecko 5 Small Neck. The width of the playing surface at the 22nd fret is 2-7/8" (73mm). Choose this body if you prefer a narrow 5-string playing feel.
Comfortable Neck Joint
The heel-less neck joint allows easy access to all 24 frets. The neck bolts are laid out in an asymmetric pattern for superior stability, and secured with custom recessed washers for maximum comfort.
Large Control Cavity
The rear-routed control cavity is thoughtfully designed in every detail. It features a built-in compartment for up to two batteries, a recessed area for neat installation of an active preamp, and plenty of room for the remaining controls. The cavity cover attaches with machine screws and threaded brass inserts that won't strip out.
Control Layouts
When ordering, you can specify either three or four holes for controls. The three-control pattern is laid out in an arc along the side of the body, along with a slot for a blade switch. The four-control pattern is an LP-style diamond.
Gecko 5 Small Bass Body Features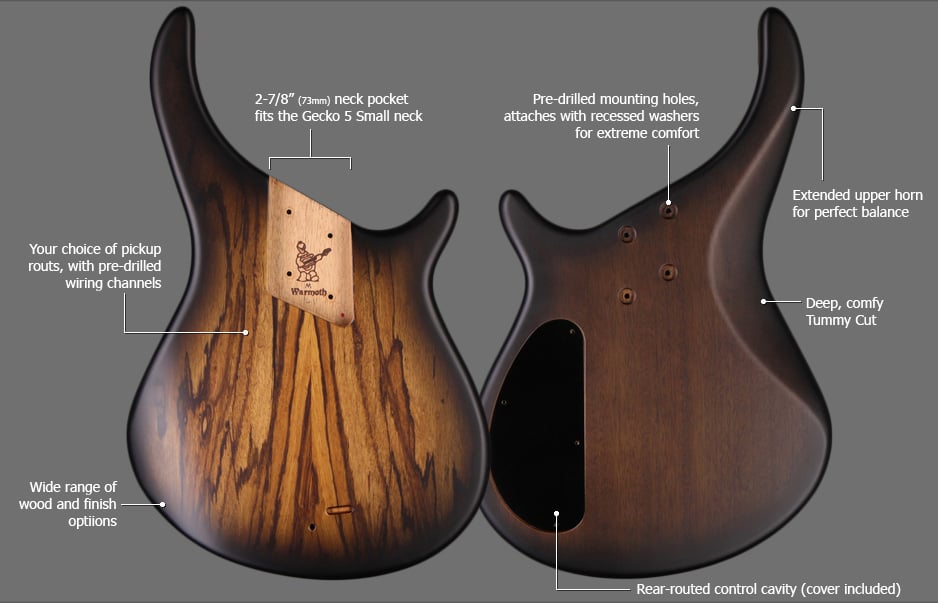 Forearm Contour and Tummy Cut are standard
Solid or chambered body options
2-7/8" (73mm) neck pocket fits Gecko 5 Small neck
Thoughtfully designed rear-routed control cavity (cover included)
Neck mounting holes pre-drilled, neck attached with recessed washer for sleek comfort
Many pickup routs available, wiring channels pre-drilled
Wood, Laminate Top, and finish options
1-3/4" thick
3/8" edge radius
35" scale length
The body works with the Warmoth Gecko 5 Small bass neck only. It is not designed to work with any other neck.
Additional Information
This body is compatible with the Warmoth Gecko 5-String Small bass neck only.
4lbs 02oz
SKU: GB91-B
Included: