Open to see all of
Warmoth's finish options
Details
Warmoth's Gecko line is designed for bassists who prefer modern aesthetics and playability. There are four necks in the line, each with a corresponding body. These necks boast a huge range of boutique features, including exotic neck and fretboard woods, 24 frets, 5-piece construction, and supremely comfortable asymmetrical back profiles. All necks have a 35" scale length.
The Gecko 5 Small is a five string bass neck, and is the narrowest of the Gecko necks. It measures 1-7/8" (48mm) at the nut, and 2-7/8" (73mm) at the 24th fret. It fits the Gecko 5 Small body only.
Gecko 5 Small Bass Neck Features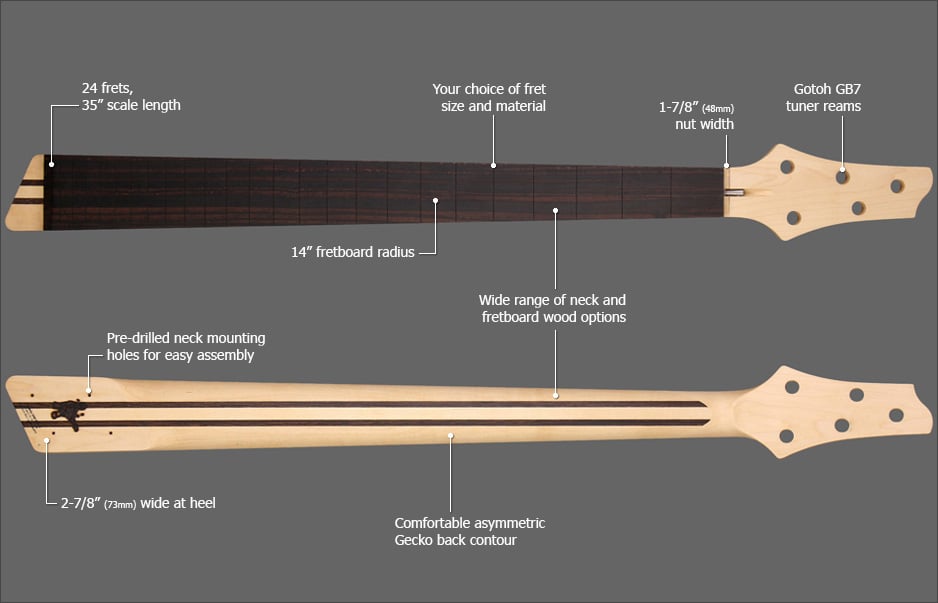 14" fretboard radius
24 frets, 35" scale length
1-7/8" (48mm) nut width
2-7/8" (73mm) wide at 24th fret
Comfortable Gecko asymmetric neck back profile
Your choice of fret size and material, or fretless
Stainless steel or graphite stiffening rods
Double-expanding truss rod
Gotoh GB7 tuner routs
Pre-drilled mounting holes make installation easy
Fits the Warmoth Gecko 5 Small body
Additional Information
This neck fits the Warmoth Gecko 5-String Small Bass Body only.
SKU: GN-396
Included: