Open to see all of
Warmoth's finish options
Details
The Warmoth Bass6 body gives adventurous guitar and bass players a powerful alternate voice that sits right between the guitar and bass. It is tuned just like a normal guitar, but one octave lower. A typical string gauge is .084, .072, .056, .044, .034, .024. The unique tones of the Bass6 can be heard on recordings by the Cure, Glen Campbell, The Beatles, The Who, Blink 182, and Aerosmith. Warmoth's Bass6 body features pro construction throughout, a huge range of options, and is specifically designed to mate with our 30" scale Bass6 neck.
Bass6 Body Features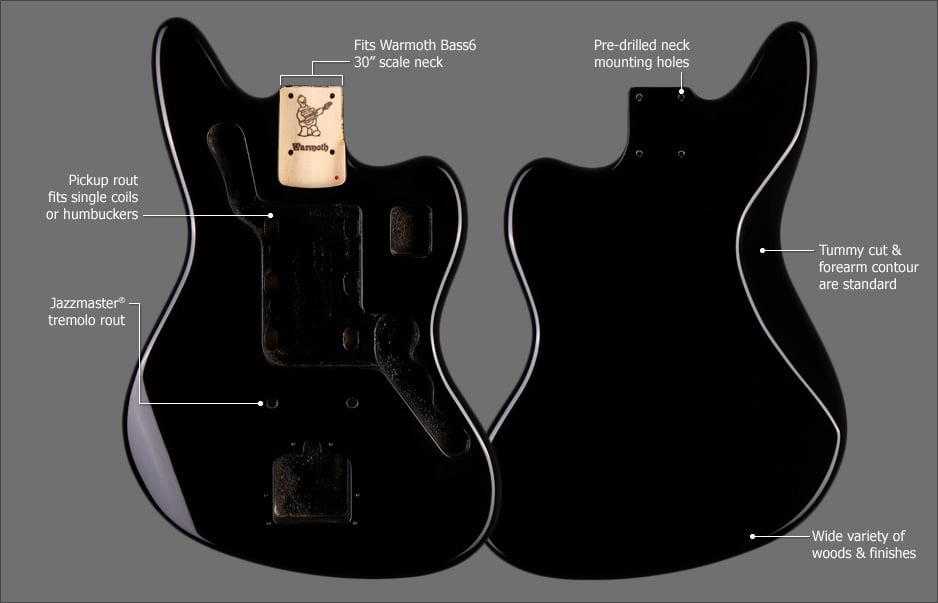 Universal pickup rout facilitates single coils or humbuckers
Jazzmaster® tremolo bridge rout
Forearm Contour and Tummy Cut are standard
Neck mounting holes pre-drilled for easy assembly
Many wood, lam top, and finish options
Pre-drilled wiring channels make installing electronics easy
The Bass6 body is designed specifically to mate with our 30" scale Warmoth Bass6 necks, and it not compatible with any other brands.
Additional Information
The body is compatible with the Warmoth Bass6 neck only. Scale length is 30".
4lbs 05oz
SKU: B-5183
Included: