Open to see all of
Warmoth's finish options
Details
The original Fender Mustang® was introduced in 1964 as 24" scale a student model. The Warmoth Mustang body captures the flavor of the original, but offers pro quality construction and a wider range of options. It is intended to work with the Warmoth's pickguard and parts, and is not a retrofit for other guitars.
Mustang Features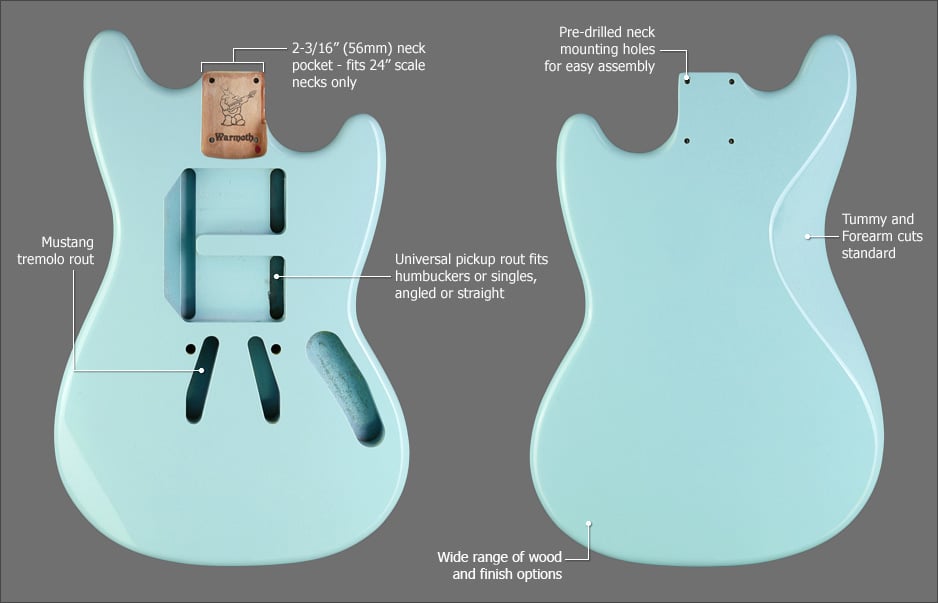 Fits 24" scale length necks only
Forearm Contour and Tummy Cut are standard
Mustang Tremolo rout with choice of Mustang bridge or Tune-o-matic bridge holes
Universal pickup rout allows humbuckers or singles angled or straight
Neck mounting holes and wiring channels pre-drilled for easy assembly
Many wood and finish options
1-1/2" thick solid construction
Though this body uses the same 2-3/16" neck pocket dimensions as a standard body, it only intonations properly with 24" scale necks.
This body fits the Warmoth Mustang pickguard only. It is not compatible with any other brand.
Because there is no source for left-handed Mustang hardware, this body is currently only available Right Handed.
Additional Information
This body fits 24" scale necks only.
3lbs 09oz
SKU: MU-303
Included: