Open to see all of
Warmoth's finish options
Details
The Jazzcaster body looks like something straight out of the fifties or sixties. It is a Jazzmaster® body outfitted with Tele®-style pickup and control routs. All your old Tele® parts will transfer directly to the new body. You have your choice of many other pickup and bridge options too, plus exotic lam tops, myriad finish options, and more. Customize it to create a guitar to matches your unique taste and playing style!
Jazzcaster Body Features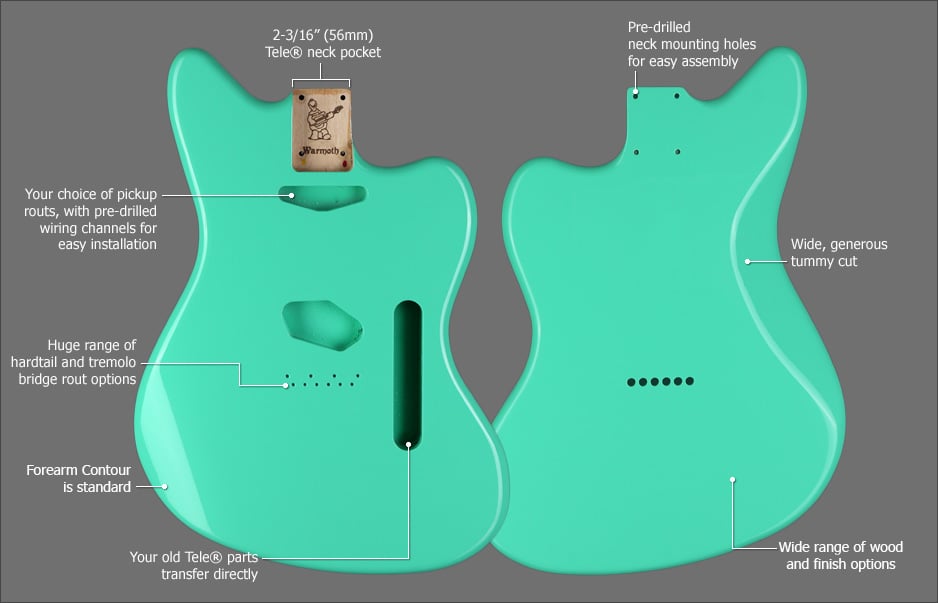 Tele® parts are a direct retrofit
Forearm Contour and Tummy Cut are standard
Huge range of bridge and pickup routs
Neck mounting holes and wiring channels pre-drilled for easy assembly
Wood, Laminate Top, and finish options
2-3/16" (56mm) neck pocket fits any neck with vintage/original USA Strat® spec neck heel
Fender has produced many different Telecaster® models, and their specs are not consistent. If you plan to use old parts with this body, be sure to measure them carefully to ensure that they will fit correctly. In most cases they will, but not always.
Additional Information
The Jazzcaster Guitar Body uses a Tele® shaped neck pocket.
5lbs 05oz
SKU: JM-1397
Included: