Open to see all of
Warmoth's finish options
Details
The Jazzmaster® was introduced in 1958, and has since become the standard-bearer in offset-waist guitars. Warmoth's Jazzmaster® replacement body maintains the iconic perimeter shape, while offering an expanded range of customizable pickup, bridge, and hardware options. Rear-rout, laminate top, and chambering options make it possible to create exactly the body you envision.
Jazzmaster® Replacement Body Features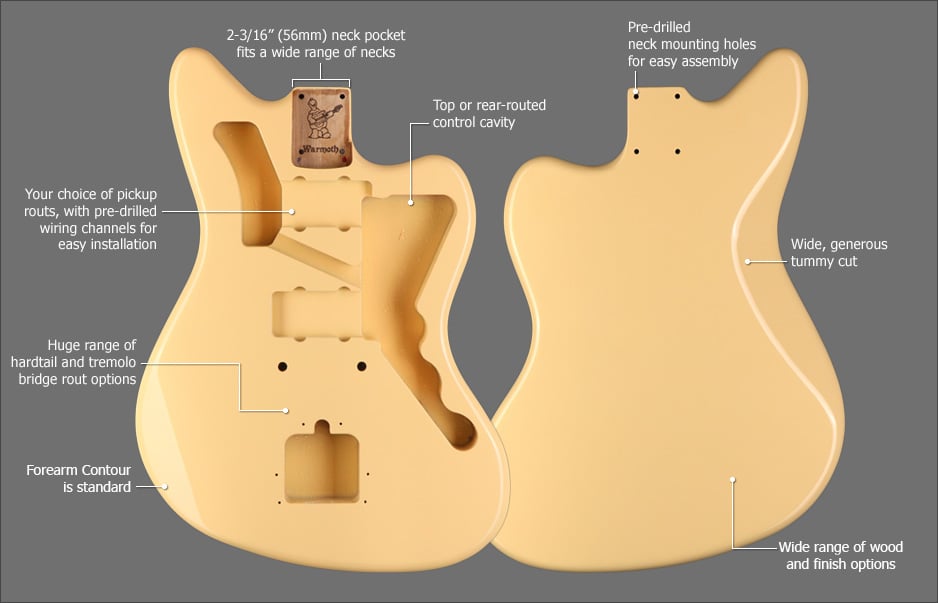 Forearm Contour and Tummy Cut are standard
Huge range of bridge and pickup routs
Neck mounting holes and wiring channels pre-drilled for easy assembly
Wood, Laminate Top, and finish options
2-3/16" (56mm) neck pocket fits any neck with vintage/original USA Strat® spec neck heel
Warmoth's Jazzmaster® Replacement Body retains the vintage perimeter shape, but adds modern pickup and bridge routing options. As a result, the Warmoth Jazzmaster® pickguard is the only pickguard that will fit this body.
Additional Information
Jazzmaster® Guitar Body
4lbs 09oz
SKU: JM-1519
Included: