Open to see all of
Warmoth's finish options
Details
The Jaguar was introduced as Fender's® top-of-line in 1962. The Mustang® was introduced in 1964 as a student model. Though they came from opposite sides of the tracks, they had one thing in common: their 24" scale length. The Warmoth Mustang/Jaguar replacement neck offers the same 24" scale playing experience, with pro quality construction and a wider range of options than was available on either of the originals.
Mustang/Jaguar Neck Features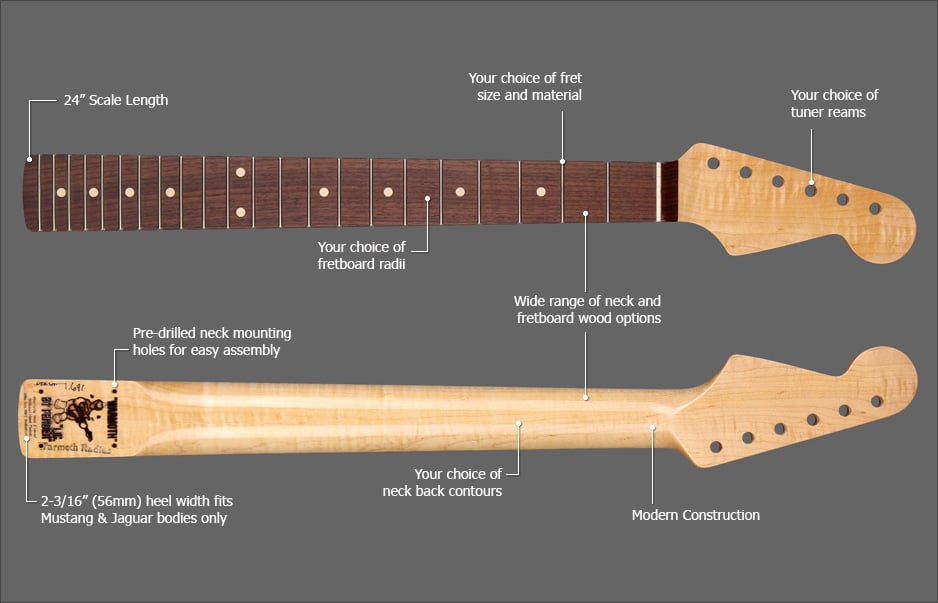 Fretboard .25" (6mm) thick
Your choice of back contours
Huge range of wood options
Neck mounting holes are pre-drilled for easy assembly
Your choice of fret size and material
Your choice of fretboard radii
24" scale length
Modern construction
This neck works on Mustang and Jaguar bodies only. Although it uses the same 2-3/16" heel dimensions as a standard neck, it will not intonate correctly on a standard-scale body.
Additional Information
This neck features a 24" Scale length.
SKU: MJN-1362
Included: