Open to see all of
Warmoth's finish options
Details
In 1949 Leo Fender completed a prototype of what would eventually become the Telecaster®. Fans have since dubbed it the "Snakehead" for its most distinguishing trait: a symmetrical, snake-like headstock. Our Snakehead replacement neck combines the distinctive original styling with the structural improvements Leo added later – most notably, a truss rod for stability and adjustment. It fits any body with a neck pocket that uses Fender's vintage/original 2-3/16" USA Tele® specs.
Snakehead® Neck Features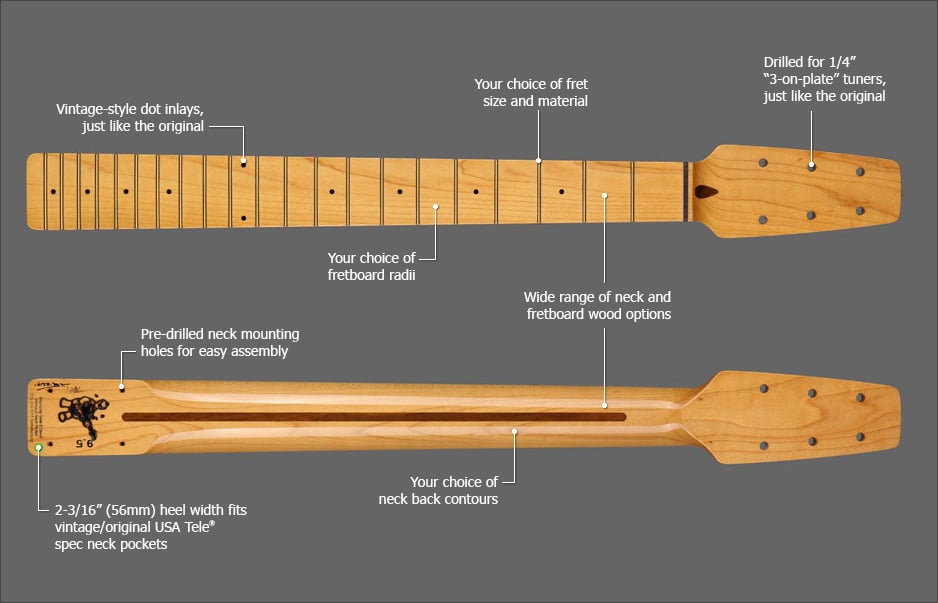 Several constructions to choose from
Your choice of back contours
Huge range of wood options
Neck mounting holes are pre-drilled for easy assembly
Your choice of fret size and material
Your choice of fretboard radii
2-3/16" (56mm) heel fits any neck pocket with vintage/original USA Tele® specs
Additional Information
This Snakehead neck is compatible with the 3-on-plate tuners sold by Warmoth.
SKU: MN-3212
Included: