Open to see all of
Warmoth's finish options
Details
For those players who crave a feel and tone true to the original Strat® bodies Leo Fender built over 60 years ago we offer the Vintage Stratocaster® replacement body. All the subtle-but-essential details of those legendary bodies have been thoughtfully reproduced for a classic playing experience. Choose wood, hardtail or tremolo bridge rout, and finish. For a wider range of options choose our Standard Strat® body.
Vintage Stratocaster® Replacement Body Features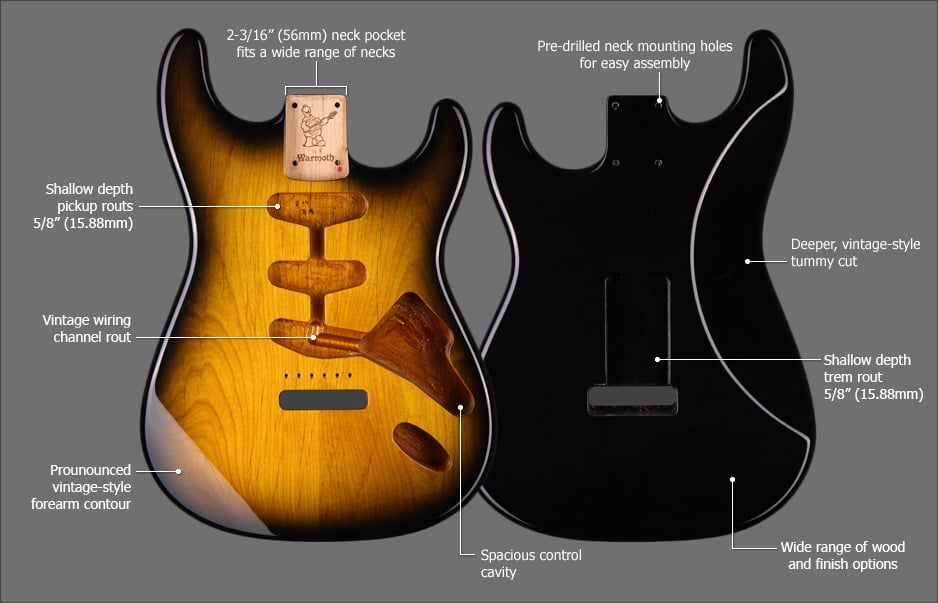 Forearm Contour and Tummy Cut are standard
2-3/16" (56mm) neck pocket fits any vintage/original USA Strat® spec neck heel
Neck mounting holes, trem claw holes, and wiring channels pre-drilled for easy assembly
Caution: Vintage-Style Cavity Routs are Shallow
This body features a vintage-accurate pickup rout depth of 5/8" (15.88 mm), and will only accommodate pickups made to vintage depth. Pickups with a modern 3/4" (19mm) depth will not fit. This includes vintage-looking pickups with a magnet or plate attached to the bottom. To ensure compatibility, measure your pickups carefully.
The tremolo rout in back also features a vintage-accurate depth of 5/8" (15.88mm), and will only fit spring and claw assemblies made to vintage spec.
Additional Information
Vintage Stratocaster® Replacement Body
4lbs 08oz
SKU: PS-15435
Included: