Open to see all of
Warmoth's finish options
Details
If light weight, easy playability, and unique looks are what you seek, the Short Scale Mooncaster bass body is for you. Its hollow body and string-thru, post-mounted bridge give it an girthy, fat tone that defies its diminutive size. You can have it routed for TV Jones Thundertron pickups in the bridge position, neck position, or both. Additionally, the wide range of wood, Lam Top, and finish options allows you to build a bass you're unlikely to see anybody else playing. And unlike many short scale basses on the market, its construction is pro-level in all respects. It boasts craftsmanship and attention to detail that is second to none.
Neck Fit and Scale Length
This body fits all Warmoth short scale bass necks. It can be either 30" or 32" scale, depending on which neck you choose. Short Scale necks are a joy to play. Even notes on the first fret are easy to reach and play without fatigue.
Short Scale Mooncaster Bass Body Features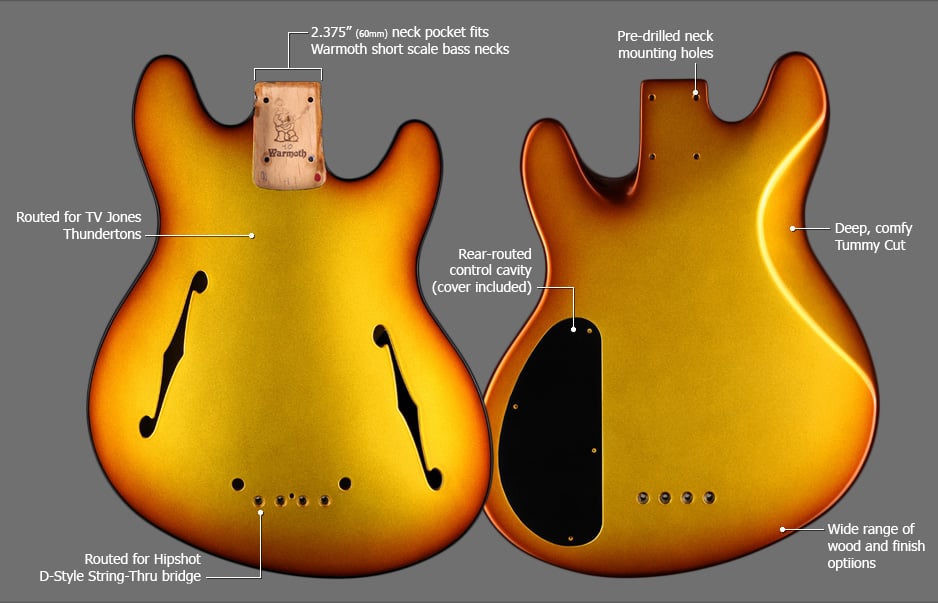 2.375" (60mm) neck pocket fits all Warmoth Short Scale bass necks
Carved Top Hollow construction
Choose 1, 2, or no F-holes
Neck mounting holes pre-drilled for easy assembly
Rear-routed control cavity (cover included)
Heel Contour is standard
Routed for TV Jones Thundertons, with pre-drilled wiring channels
Fits the Gotoh D-Style String-Thru Bridge
Myriad wood and finish options
30" or 32" scale, depending on which neck you choose
This body fits Warmoth 30" and 32" Short Scale bass necks only. It is not designed to fit any other neck.
Additional Information
This body works with Warmoth's Short Scale Bass necks only. It is compatible with both 30" and 32" scale lengths. High Grade Tubular Quilt Maple Top.
4lbs 03oz
SKU: MCBP8-B
Included: