Open to see all of
Warmoth's finish options
Details
Since its introduction in 1954, Fender's Stratocaster® headstock has become one of the most recognized shapes in the world of electric guitars. Warmoth is officially licensed by Fender to use this iconic shape on our Strat® replacement necks. Get the custom features you want, without sacrificing the look you want!
Nine Construction Types
This neck is available in nine different construction types, including Modern, Vintage, Vintage/Modern, Gibson® Scale Conversion, Baritone Scale Conversion, and more. All constructions adhere to Fender's vintage/original USA Strat® neck heel specs.
Huge Range of Custom Options
The Warmoth Strat® Replacement neck boasts an unrivaled range of custom options not available on the original. Binding, scallops, exotic woods, nut widths, back profiles, fretboard radii, and more, allow you to configure yours any way you want. Don't let an off-the-shelf neck hinder your playing any longer. Get a neck that helps you play your best; one built for your hands, and your playing style.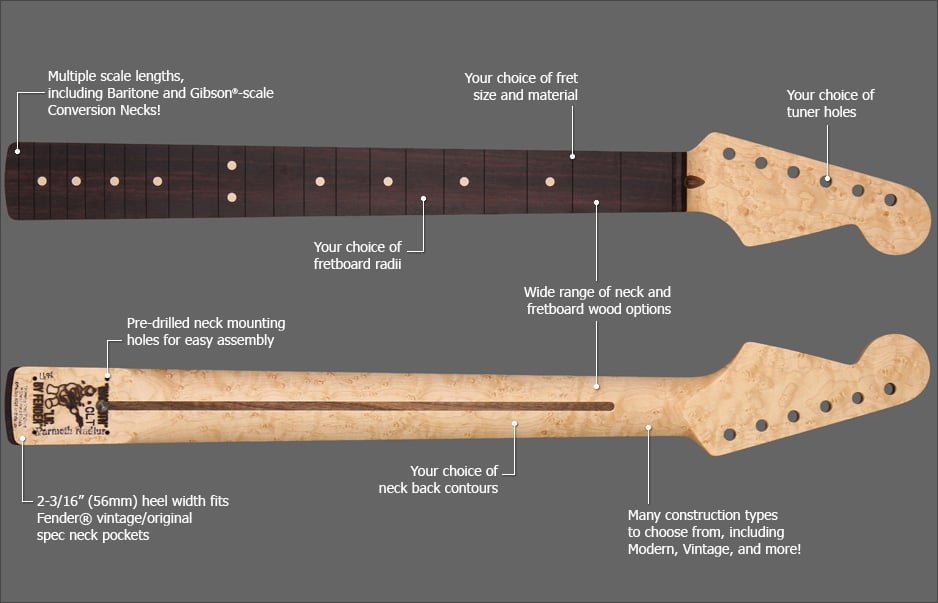 Features at a Glance
Nine different constructions to choose from
Your choice of back contours
Huge range of wood options
Neck mounting holes are pre-drilled for easy assembly
Your choice of fret size and material
Your choice of fretboard radii
2-3/16" (56mm) heel fits any neck pocket with vintage/original USA Strat® specs
Not all options are available on all neck constructions. For the widest range of options, choose one of the Modern construction types. For the full range of vintage-style options, you must choose one of the Vintage constructions.
Additional Information
Replacement neck for Stratocaster®, officially trademark licensed by Fender®.
SKU: SN-30818
Included: