Bass Paint and Finishes
Color Choices
Choose a paint swatch to see an image of a guitar or bass body in that finish color. Browse through the dropdown categories for ideas to customize your guitar body order.
Shell Pink
Computer monitors vary, and the colors shown above are an approximation. Transparent, burst, and dye finishes will also vary based on the color of the wood they are sprayed over. Click Here to Explore/Download the Warmoth 2018 Finishes Catalog.
---
DIY Paint-Ready
When it comes to achieving a pro-quality finish the first steps are the most crucial, and Warmoth can do this work for you. Bodies with our "DIY Paint-Ready" option will arrive sealed, sanded to 320, basecoated, and ready for you to finish however you choose. With this prep-work done right even rattle-can finishes can look great! Our polyester basecoat is compatible with virtually all paints and topcoats, including nitro, urethane, and polyester.
---
Gloss & Satin Finish Options
Every finish color Warmoth offers is available as Gloss or Satin. Both are equally beautiful, thin, and durable.
---
Edge Treatments
When a body's top color and back color are different, the point where they meet can be handled two ways: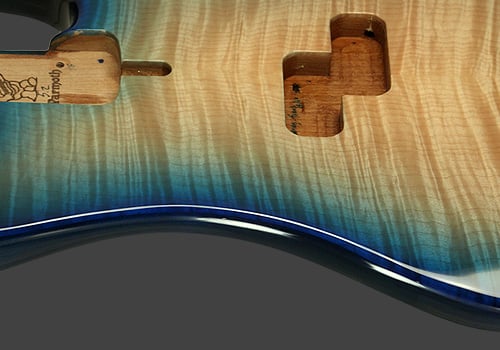 ---
Masked Accent Line
A Masked Accent Line is a decorative effect around the perimeter of a body, created by masking off this area during the finishing process. Once the color is sprayed, the mask is removed, leaving a clear line. A LamTop is required for this option.
---
The Finishing Process
Warmoth's finishes are both beautiful and durable. Our process begins with a polyester base coat to fill the grain. (Dyes on figured Maple Lam Tops are appled to the raw wood prior to the base coat.) Once it dries, a urethane color coat is applied. The top coats come next, followed by final sanding and buffing. Our finishes seldom exceed twelve thousandths of an inch in thickness, allowing the wood to remain true to its natural tone and resonance.
Exotic Woods require an additional isolator coat. Exotic woods include Bocote, Bubinga, Canary, Cocobolo, Camphor, Goncalo Alves, Padouk, Pau Ferro, Rosewoods, Bloodwood/Satine, Purpleheart, and Ziricote.
Matching paint on bodies and necks should be ordered at the same time. Items ordered and painted separately will not have an ideal color match.
Due to time constraints, Warmoth does not accept the following:

Custom finishing requests for things like hot-rod flames, pinstriping, logos, or other designs.
Color matching requests to customer-supplied pictures, parts, or color numbers.
Third-party parts for finishing or refinishing. We will only paint the parts we build here.