Guitar Neck Pocket Options
Heel and Neck Pocket Dimensions
Warmoth adheres to Fender's® USA vintage/original neck heel and neck pocket dimensions on all models (except when noted). Many other manufacturers have adopted these dimensions as well. Unfortunately, they are not universal...even among Fender® products. Careful measurement is the only way to be sure your parts will be compatible.
Strat® Neck Pocket
Tele® Neck Pocket
Strat® / Tele® Heel Dimensions
Neck Depth
Strat® and Tele®-style heels and neck pockets have the same measurements:
Width = 2-3/16" (56 mm)
Length = 3" (76 mm)
Pocket Depth = 5/8" (16 mm)
---
Heel and Neck Pocket Shapes
Strat® and Tele® neck pockets and heels share the same dimensions, but they are not always interchangeable due to their different shapes. A Tele® neck has a squared heel, while a Strat® neck's heel is rounded:
Correctly Matched Heel & Pocket Fit: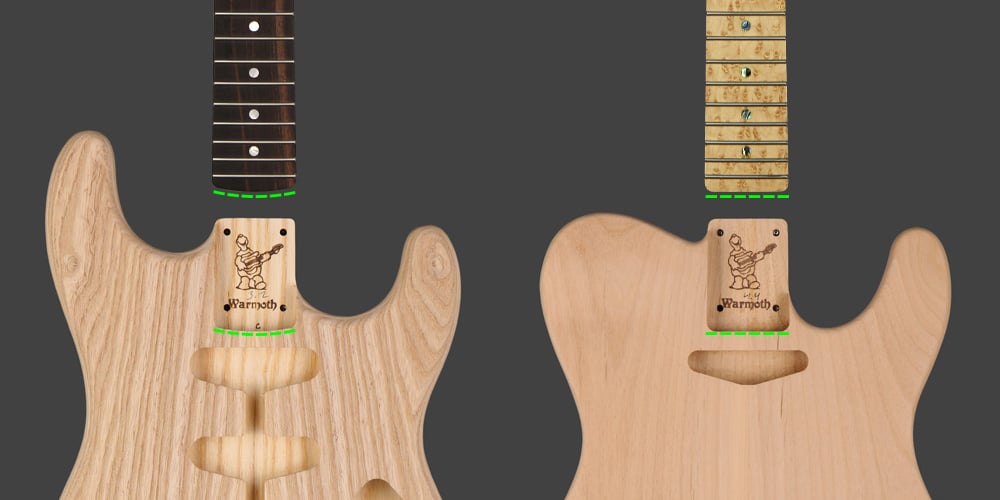 A Strat® neck fits a Strat®-shaped pocket because both the heel and the pocket are curved at the end.
A Tele® neck fits in a Tele®-shaped pocket because both the heel and the pocket are squared at the end.
Mismatched Heel & Pocket Fit:
A Tele® neck will not fit or intonate in a Strat®-shaped pocket. The squared corners on the Tele® neck get in the way.

A Strat® neck can fit and intonate in a Tele®-shaped pocket, but it will leave small gaps in the corners of the neck pocket. If the neck has a fretboard overhang it will cover the gap.

Most Warmoth bodies and necks use the Strat®-shaped heel and neck pocket as standard. Only bodies and necks from the Tele® family use the Tele®-shape as standard.
---
Other Heels and Pockets
A few Warmoth guitar bodies and necks use different dimensions and scale lengths. Learn more about these models.
3-Bolt Micro Tilt Neck Pocket
We offer a 3-Bolt compatible neck pocket upon request. We drill and rout for all the screws and round plate, but we do not carry 3-bolt hardware. Available on Strat® and Tele® bodies.
---
Angled Neck Pocket
We offer two different angles for our neck pockets. We offer a bigger angle for use with stud-mounted bridges like the Gibson Tune-O-Matic and Gotoh 510. We offer a smaller angle for use with a non-recessed Floyd Rose bridge rout to minimize any need for neck shims.
Carved Top bodies and some bridges require an angled neck pocket.
---
720 Mod
Our "720 Mod" lowers the floor of a standard neck pocket from .625" to .720". This reduces the height of the gap between the top of the body and the bottom of the fretboard where it overhangs at the 22nd fret.
Compatibility Issues
The 720 Mod is available on rear-routed bodies only. It is not available on any body that is configured for a pickguard. Trying to tighten a neck in a 720-modded pocket while a pickguard is in the gap between the body and the overhanging fretboard will cause the fretboard to split off.
The 720 mod is not available on bodies that require an angled neck pocket. These include carved tops and bodies routed for certain bridges.
If the neck you plan to install has binding on it, do not get this mod. Binding often hangs lower than the overhanging fretboard end, and damage may result.
Available on our Custom Build bodies only. The 720 Mod is not available on our in-stock bodies.
---
If you have compatibility questions regarding a specific guitar neck or body, please contact our Parts Tech for assistance by emailing
[email protected]
or calling
(253) 845-0403
.